What the dj's are saying...
Starpoint Radio/Radio North Sea International (DJ Barry Stone)

Hi Guys Loving the Jam Don't Stop and this will be on my Playlist when I present my Shows on Starpoint Radio also on JFSR and RNI (Radio North Sea International) Peace & Love Barrie Stone
Soul Power Radio (DJ Shaun)

Nice vocals and a smooth production
2 Entertain - www.2entertain.co.uk

Soulful jam from the Soul Garden, soaring vocals, the street mix has a clean fresh vibe and a groove that gets inside your head
The Soul Garden Unveil 'Don't Stop (The Hustle)
Published on February 26th, 2013 | by Noel Phillips
" The Soul Garden, are back with their highly anticipated new single 'Don't Stop (The Hustle).' Producer Blak Prophetz, keyboardist J-Keyz and lead vocalist Ja'i Soul's reappearance has reached fever pitch: "they are bringing back the classic sounds of dance and RnB elements that reminisce the sounds like Cameo," says The Sunday Times.

Gearing up for their soon-to-be-released single 'Don't Stop (The Hustle),' the jazzy soul influenced band is already attracting significant interest from music admires, while finding a good fit alongside legends such as The O'Jays."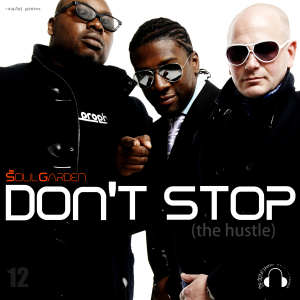 Don't Stop (The Hustle)
by The Soul Garden
* Release Date : 28th February 2013
* Catalogue Id: DJ0032
* UPC: 829282000016
* Release Format: Single
* Territory: Worldwide
* P-Line: 2013 Digital Jukebox Records
* C-Line: 2013 Digital Jukebox Records
* Recording Location : United Kingdom
* Publishing BBC Worldwide/Digital Jukebox
Links